See how you and the new HS 5-1000 work together.
We've created something truly extraordinary. Specifically designed for the unique demands of Neurosurgery, the new HS 5-1000 offers exceptional maneuverability, a rock solid foundation and more brilliant optics – thanks to an innovative illumination system that delivers full light penetration into even the deepest spaces with minimal heat transfer. Plus, Haag-Streit has joined forces with Sony to engineer the ultimate surgical experience – integrating the renowned Sony 3D video system with the HS 5-1000 for stunning 3D visualization.
It's clear. With every advance, we're taking surgical microscopy – and your practice – to whole new level.
"The optics on HS Hi-R 1000 are the best I have ever used. Additionally, it is extremely innovative as is apparent with the unique SensoServo Drive system which enables the user to move the scope with minimal effort, locks it in place immediately after moving, and avoids the need for balancing."

-Dr. Andrew Grande, Department of Neurosurgery, University of Minnesota
The 5-1000
The foundation for every neurosurgery microscope must be rock-solid. That's why Haag-Streit's latest innovations combine brilliant optics and an enhanced depth of field with our superior new FS-5-33 floor stand, providing best-in-class stability. Now you can experience a new level of visualization along with easy and precise handling—giving you the optimal results you require.
Our newest innovation, this neurosurgery microscope incorporates the latest technologies in surgical microscopy. The state-of-the-art design features provide brilliant optics, great maneuverability, and intuitive handling—built on a rock solid foundation.
Exceptional stability
Automatic balancing
Innovative dampening for best-in-class stability. After each movement, it quickly returns to its stable position, which makes the operation process quicker and stress-free.
Floor stand capable of supporting both the Hi-R 1000 and Hi-R 700 microscopes
Brilliant optics
Adjustable depth of field enhancement
Wide 25mm stereo base for best-in-class 3D perception
Bidirectional RS 232 interface for navigation
Fully integrated modules with clean design
3D integration without compromise
ALA with florescence capabilities
Easy to use
Long-arm reach and over-head capabilities let this microscope fit into even small operating theaters
Electrical locking for parking position
Computer control of all motorized functions
SensoServo Drive provides high precision with minimal exertion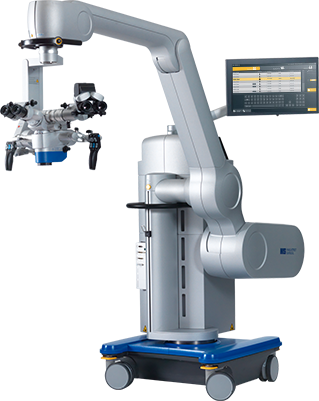 The 3-1000
One of the most advanced microsurgical operating systems available, the 3-1000 requires no balancing—just a push of a button.
Exceptional stability
One-touch auto-balancing
Fully integrated with our floor stand FS 3-43
Perfect dampening with long-arm reach
Brilliant optics
Wide 25mm stereo base for best-in-class 3D perception
florescence capabilities (optional)
Switchable enhancers of the depth of field
Easy to use
Working distance up to 510 mm
Computer control for every motorized function
RS 232 interface for navigation
SensoServo Drive uses the SensoGrip for high precision with minimal exertion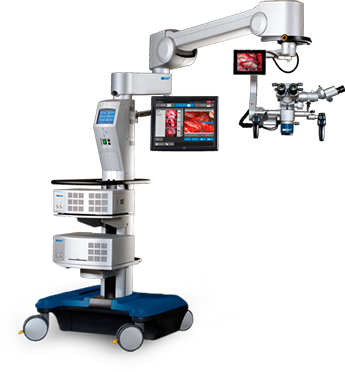 Want more information on Haag‑Streit products?
Just fill out the form and a Haag-Streit representative will be in touch soon.