Starting with our exclusive TOP strategy, Octopus detects early visual field changes other perimeters can't.
Novel technology has made Octopus the fastest, most efficient and most accurate perimeter on the market. It all starts with TOP, an exclusive strategy that maximizes patient compliance and minimizes chair time, with thresholds in a blazing 2.5 minutes. What's more, the Pulsar stimulus detects glaucomatous changes far earlier than any other perimeter, while fixation control adjusts for fixation losses versus simply detecting them.
The true successor to Goldmann kinetic perimetry, the Octopus 900 offers all-in-one testing from onset to progression to end stage disease.
Octopus 900 Basic System
Features include:
Disease based programs with Octopus Glaucoma(G) & Macula(M) programs. Capable of doing 24-2, 30-2 & 10-2 programs
TOP Strategy for results in less than 3 minutes per eye. Also includes Dynamic & Normal Strategies
100% reliability regarding fixation with Octopus Fixation Control
Full 90-degree static tests, including: Estermann & Blepharoptosis
1 isopter III4e Goldmann Kinetic test
EyeSuite Global Trend Progression Analysis, as well as, Cluster & Polar Trend Analysis
Remote database capability for shared viewing station
Separate computer, monitor, printer & wheelchair accessible table
Octopus 900 Pro System
Includes all Octopus 900 Basic features plus:
Manual & semi-automated Goldmann Kinetic testing
Custom Static testing
Blue/Yellow (SWAP), Flicker & Red/White methods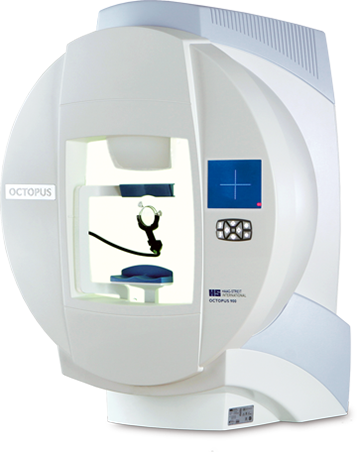 The Octopus 600 – glaucoma detection far earlier.
Octopus 600 Basic System
Features include:
Pulsar for early detection in TOP Strategy (3 minute threshold) with Glaucoma(G) and 32 programs
G, 32, 24-2, M and 10-2 programs for SAP/White-White with Dynamic/Normal strategy
45-second screening test in both Pulsar and SAP
100% Fixation Control including blink, pupil position, dart and contact control
Global Trend with EyeSuite Progression Analysis Software
Hard or Electronic Printouts available
HP Printer
Octopus 600 Pro System
Includes all Octopus 600 Basic features plus:
TOP Strategy (3 minute threshold) in SAP/White-White
Cluster and Polar Trend in EyeSuite Progression Analysis Software
Remote Database capability for shared software on viewing station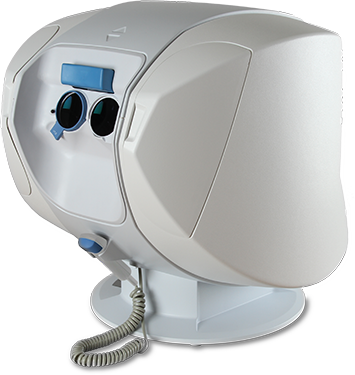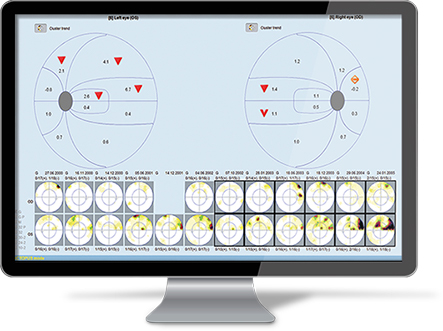 EyeSuite Software Updates
Stay current with the latest application improvements and calculation methods. Get notified of EyeSuite software updates.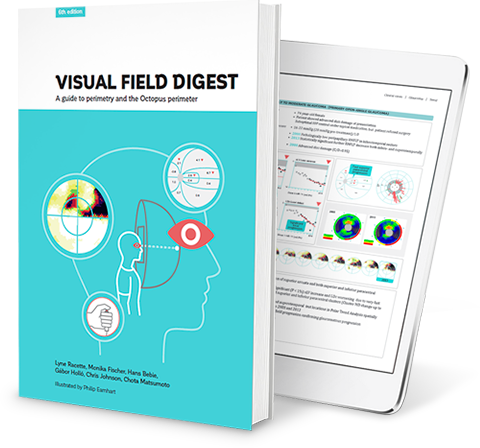 A guide to perimetry and the Octopus perimeter.
Stay current with the latest application improvements and calculation methods. Get notified of EyeSuite software updates.
Introducing the 8th edition of the Visual Field Digest from Haag-Streit. In this guide, you'll find extensive information and insights about perimetry and the Haag-Streit Octopus perimeters. The Visual Field Digest comes with any new Octopus perimeter, and a digital download is available below.
What's New?
With the 8th addition you'll get:
A comprehensive booklet on the Octopus perimeter and the field of perimetry written by six experts in the field.
Over 200 illustrations and visual guides ready to use by teachers and practitioners alike.
A version of the guide for both print and digital (works on mobile and desktop).
Western University of Health Sciences Lecture Series
Featuring Pinakin Davey, PhD OD FAAO, Professor of Optometry and Director of Research.
Want to receive additional information on Octopus?
Complete the form below and we'll be in touch.