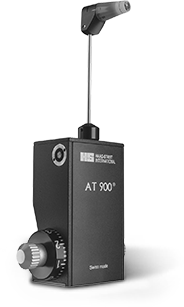 Be certain your tonometer always measures up.
Frequent calibration is crucial for your practice and your patients. Schedule Service
Schedule Service
Your tonometer is the only part of your slit lamp that makes contact with the patient's eye and is a highly sensitive precision tool.
To ensure your pressure readings remain diagnostically accurate, calibration checks and expert maintenance must be scheduled regularly.
Expert calibration means peace of mind.
You may be surprised to learn that tonometers need monthly checks to ensure accuracy. When a tonometer is out of calibration – and nearly half of all tonometers that Haag-Streit On-Site service engineers check are – readings most often drift into the positive range, resulting in higher IOP measurements which can lead to inaccurate diagnoses, and even surgery.
Haag-Streit On-Site service engineers verify calibration as part of each slit lamp tune-up, so you can be confident you're providing the best possible care and treatment for your patients.
Even a slight deviation from center can result in inaccurate readings.
Special repairs
Haag-Streit On-Site Service Engineers can assess if your tonometer needs repairs that require additional work, or tools that they do not have on hand. In those instances, your tonometer will be sent to a Haag-Streit facility for repairs.
Because we know this downtime can impact your business, we offer a Loaner Program to keep your practice running without interruption.
Avoid downtime with our
Tonometer Loaner Program
Contact us to schedule Haag‑Streit On‑Site service, including tonometer calibration verification.
Just fill out the form and a Haag-Streit representative will be in touch soon.