Save on a new Haag-Streit slit lamp with a
trade-in.
We will accept most slit-lamps in trade.
Introducing the Haag-Streit slit lamp trade-in program. This is a great opportunity to upgrade at a substantial cost reduction, and receive legendary Haag-Streit performance and durability. If you have most any brand of slit lamp, including Zeiss, Topcon or Marco, we're offering trade-in price reductions of up to $6500 towards the purchase of a new Haag-Streit slit lamp.
We're even accepting our discontinued BC 900 and BD 900 models in trade.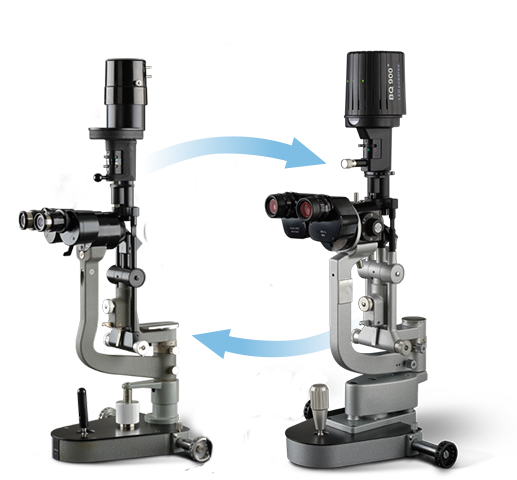 And remember, all our slit lamps come with an exclusive 10-year limited warranty. There's never been a better time to upgrade. Choose from among these models for reliable precision:
The BX 900 – Designed to make ophthalmic photography easier, this slit lamp offers extraordinary resolution for images of the highest quality
The BQ 900 – Offering a magnification range from 6.3x to 40x in five fixed steps, for optical excellence ensuring a superb clinical view
The BP 900 – Designed for the routine practice, with standard 10X, 6X, and 25X magnification and imaging compatibility
The BI 900 – Combines simplicity and reliability in a modern system which offers integrated digital imaging as an option
The BM 900 – This slit lamp provides magnification at 10x and 16x for professionals concerned with anterior and posterior segments
Receive an online evaluation of your slit lamp.
We've made it easy to begin the process of evaluating your trade in. Send us the slit lamp model, serial number, approximate age, description of its condition, and picture of the slit lamp. Our experts will evaluate your slit lamp, and contact you soon.